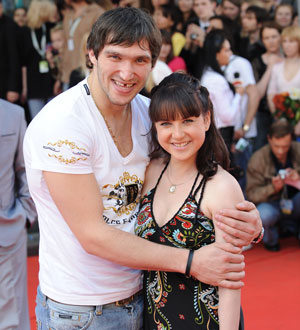 Photo by ITAR/TASS
Ovechkin and Irina Slutskaya

From Gazeta.ru, by Andrei Kartashov, July 5, 2008:

Ovechkin was invited to the telebridge Moscow-Sochi, dedicated to 2014 Winter Olympics that will be held in Sochi. He answered to few questions...

Ovechkin: "What I am going to do after I'll finish with hockey? I don't know... I'll find something... Maybe I'll be the Coach... instead of Hiddink..."

"I flew to Sochi yesterday. The city looks magnificent! I haven't been anywhere though except for the beach. It's warm there and there are a ton of beautiful girls!", smiled Ovechkin, who is at present obviously more interested in the opposite sex, than in hockey or even in the future Olympiad.

Ovie acknowledged that he wants to be introduced to Maria Sharapova, the main sports beauty of this country. "Masha, If you see me, regards!" and he waved into the camera, "our meeting is still ahead!".