From Pavel Lysenkov's blog (blog.sovsport.ru/users/lysenkov/post121273528/):

This is a very interesting story. We left Team Russia's training and wanted to go to the coveted Greek restaurant, but it only opens at 16:00 (4 pm). There is another half an hour. We walk in the park and see the Canadians who are playing street hockey. Instantly we got an idea to organize an international match Russia - Canada. The Russian journalists immediately knock together a team dubbed "The Soviet Express" (although we also had the idea to call it "Sports-Sports"). Here's the roster: Slava Malamud (in the goals), Kirill Belyakov (defense), Igor Rabiner (center forward), Michael Zislis (left wing), Pavel Lysenkov (right wing). Everything was serious, we had the referee, the time count, the wooden sticks, the goalies with the shin pads, the competitive game, the slapshots, the gnashing of teeth and shortness of breath. And away!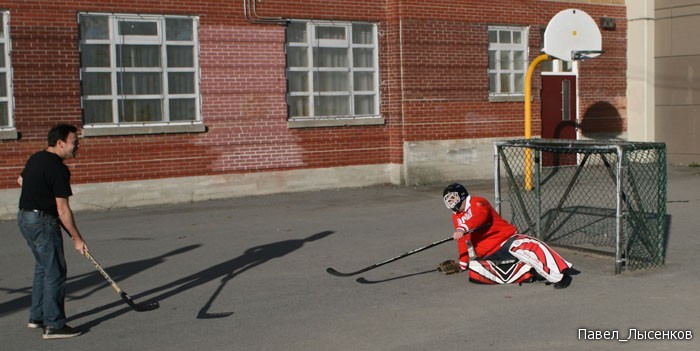 Igor Rabiner is checking how good goalie Malamud is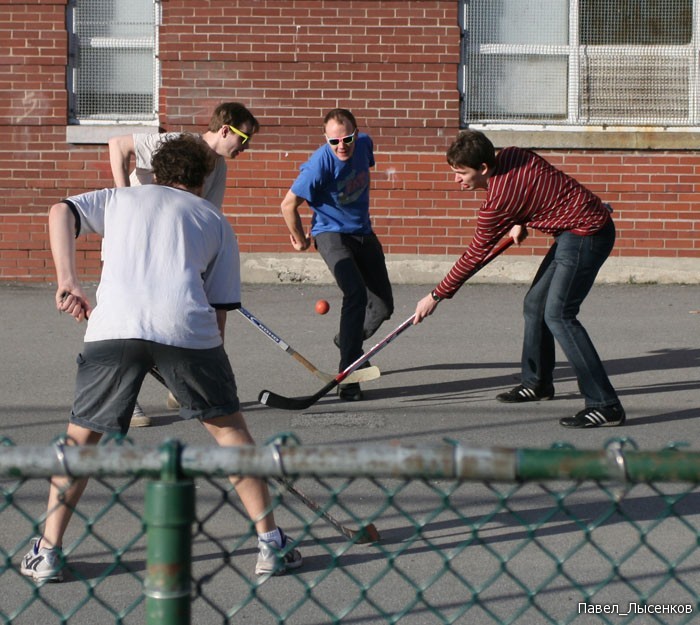 The faceoff!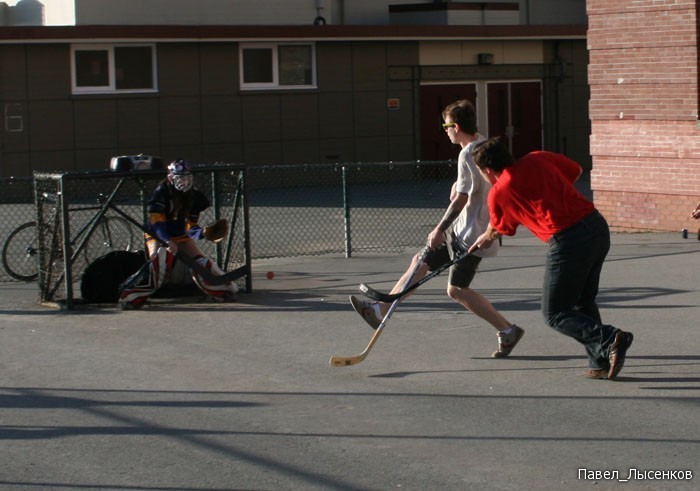 Pavel Lysenkov scores on his first shot on goal. (Ovi should be jealous. Not. See at the bottom.)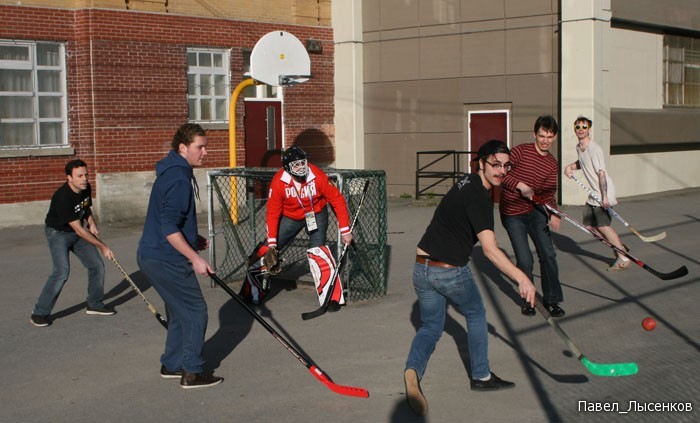 All four of us are repulsing from the flimsy bot in the glasses. Go, Russia!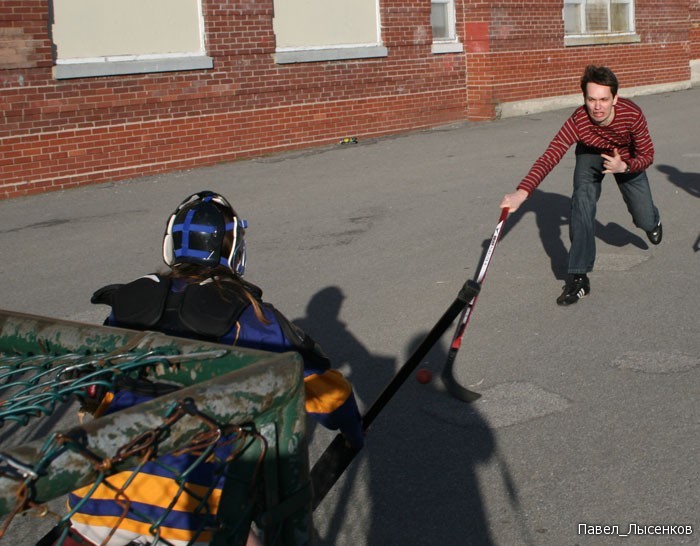 The hard rock fan Mikhail Zislis is attacking the goals. "Du Hast!" Du Hast nicht!"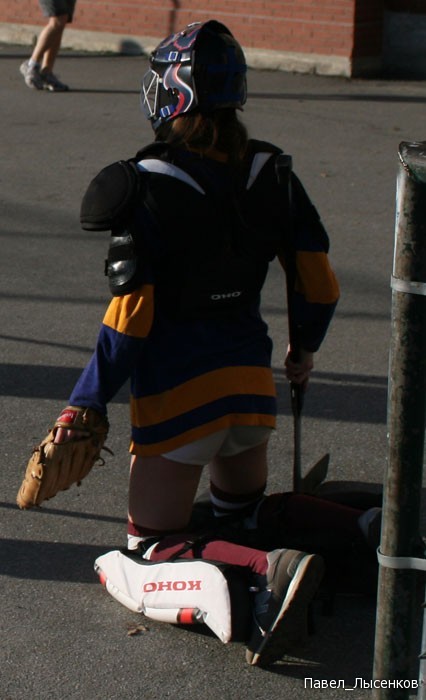 Now, you must see what a goalkeeper they have! Long socks and mini-shorts.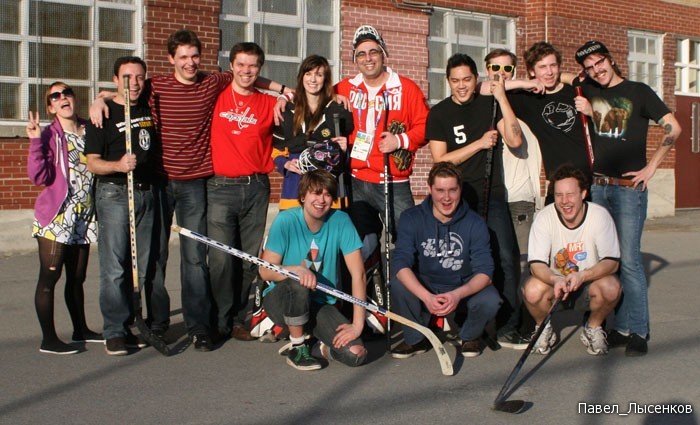 The teams' photo. The girl on the left is delighted of Rabiner. The rest of us is in awe of the Canadian national team's goalie. It's a pity, but I forgot to ask her name. At one point I shot the puck and accidentally hit her in the stomach. I walked over and apologized. And she said, "It's okay. I am here to do this." Here's what they are, the Canadian girls!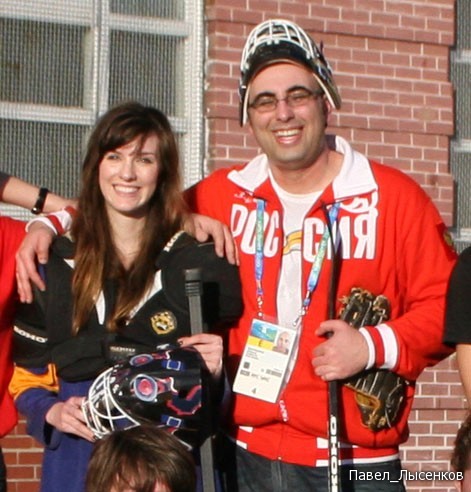 Here she is close. She is hot! Our goalie also likes her... The game ended 5:5 with shootouts and "Sovetsky Express" won. If the Olympics will have the final Russia - Canada 5:5, and then we will win in shootouts, we'll be looking for it! Go, Russia!
Slava Malamud
: Should we call Ovi next time?
Pavel Lysenkov
: Nah, he will spoil everything.
Yeah, Pavel, unlike you Ovi would score on that hot goalie. Didn't even ask the name or a phone number? Darn it, you're a total disappointment, Pavel. :-)
---