That's according to LifeShowbiz.ru. I'd take anything from them with a a grain of salt. Cum grano salis, my friends! :-)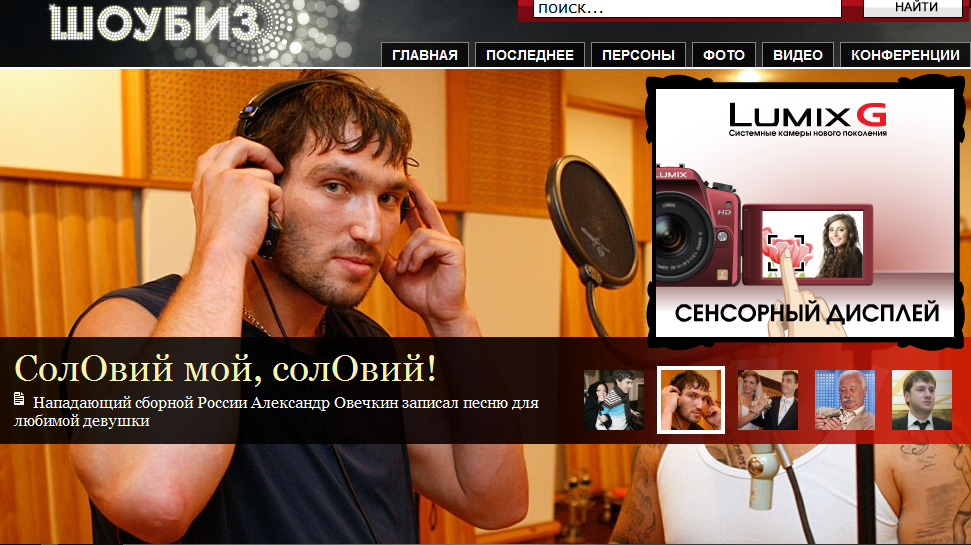 (from Emily's archives)

Here's the translation:

Alexander Ovechkin recorded a song for his girlfriend, along with the artist Dzhigan of Black Star Inc. Russia's forward wants to be a star not only on the ice. Very soon a real surprise is awaiting the true fans of hockey and the fans of rap.



It is unlikely that the song that was co-created with artist Dzhigan of Black Star Inc. will appear on live radio, but hopefully it would seep into the internet.

The best hockey player is not giving the name of a lucky girl to whom he devoted his premiere creation, the 24-year-old hockey player only said that at this time it's "all very serious."



"No, no, no, I will not say who she is. If all goes well, you'll soon find it out by yourself," said Sasha denying Life Showbiz provocative questions. "All Timan [Timati - tj] friends are my friends, and we often improvise with them at parties, usually as a joke, but this time I decided to record a track to make a surprise to my girlfriend.

Ovie arrived to the studio late at night after watching the semi-final soccer match between Holland and Uruguay and brought with him a great support group. The players of the Moscow Dynamo Denis Kolodin and Andrei Voronin, as well as close friends of the hockey player, were helping a friend.

If this trend continues, we soon will be able to see Ovechkin singing, with the group Ivanushki, for example.



Dzhigan showed studio to Sasha, but when the recording began, Life Showbiz was asked to leave. It turned out that a world hockey star, who is applauded by thousands, is shy to sing in front of the camera.
July 7, 2010
Source: lifeshowbiz.ru/news/30629
Video update:
Dzhigan is asking if Ovie wants it louder. Ovie says, "Yes, make it louder please". Dzhigan shouts, "Kostja, make the music louder so that the voice could be heard!"
Like our reader Jem said...
Thanks for keeping us up-to-date with Ovie news. I LOVE that he has his name on his pants!
Wow, I didn't even noticed it at first...
Update:
I thought I've seen Dzhigan before, and, yes, he was at the
kickboxing tournament
with Ovie:
Dzhigan's bio at www.nudecelebs.ru/bio/19377/ tells that his real name is Dennis Ustimenko-Winestein, born in Odessa, Ukraine, started rapping at the age of 9 and martial arts at the age of 11. He is a European silver medalist in kickboxing (wow), two times Ukrainian champion. The last name can tell why he has a Magen David tattoo and the saying "God is always with me" in Hebrew. Interesting... Here's the
link
to YouTube video where he is recording the song at the same recording studio.
---
If you enjoyed this post, please consider sharing it!