washcaps: Caps Juggle Lines, hear from Ovi, Backstrom and Boudreau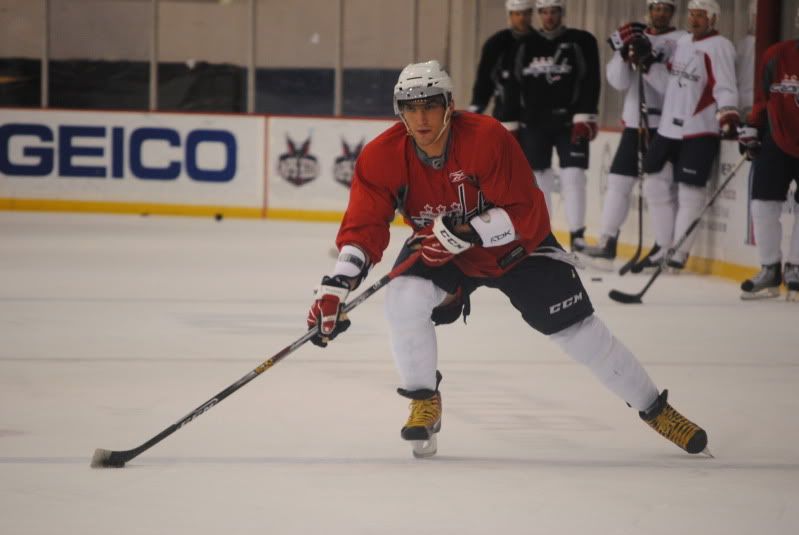 Photo by Marge

By Katie Carrera, Jan. 7, 2011, Capitals Insider:
As expected this morning, Alex Ovechkin is participating fully in practice after receiving a cortisone shot in his left arm following Tuesday's game against Tampa Bay, which prohibited him from handling the puck the past two days.

There is a new look to Ovechkin today though as he is skating on the right side of a line with Brooks Laich and Marcus Johansson in practice. Earlier this season, on Nov. 24 against Carolina, Coach Bruce Boudreau put Ovechkin on the right side, rather than his usual left, in an effort to spark the captain. Ovechkin tallied three assists in a 3-2 win over the Hurricanes that game.

I like that Ovi has been tried on the right side and not because he shoots right, but because it creates more surprises for the opponents who gang up on Ovi. This could be vital in playoffs.
Google search on tendonitis brings the best recommendations for treatment which is to rest, and Ovi didn't get it. That's bad because if you aggravate it, it could be worse. And maybe it's already going for quite a long time, that's why Ovi's wrist shot doesn't work. He goes for slapper instead of wrister.
Tendonitis is the inflammation of a tendon, a tough rope-like tissue that connects muscle to bone.

Treatment

Rest, ice, compression, and elevation (RICE) will treat the acute condition. Pain and anti-inflammatory medications (aspirin, naproxen, ibuprofen) will help. Sometimes the inflammation lingers and requires additional treatment. Injections of cortisone-like medicine often relieve chronic tendonitis, but should be reserved for resistant cases since cortisone can occasionally cause problems of its own.

If tendonitis is persistent and unresponsive to nonsurgical treatment, a surgery to remove the afflicted portion of tendon can be performed. Surgery is also conducted to remove calcium buildup that comes with persistent tendonitis.

Expected results

Generally, tendonitis will heal if the activity that provokes it is stopped. Various kinds of treatments may accelerate the healing process. Some tendonitis complaints may last for a long time because they are not given adequate healing time before the individual returns to a vigorous level of activity.

Prevention

If given enough time, tendons will strengthen to meet the demands placed on them. The blood supply to tendons is poor, so tendons grow slowly. Therefore, adequate time is required for good conditioning. Stretching the muscles that are associated with problematic tendon will also help decrease overuse on the tendon.

And look what happened to Crosby, he already had a mild concussion when he collided with Steckel, but Bylsma let him play another game vs Tampa where he was checked into the boards by 6'6" Victor Hedman. Now he is out for at least a week. If I were his coach, I'd keep him out longer than a week.
Crosby out with mild concussion
In other news P.K Subban lost his bet to Andrei Markov and weared Team Russia outfit after Russia beat Canada in WJC final. :-)
P.K. Subban Honors His End Of A Bet With Andrei Markov
---
Link to the latest post