Jersey Shore:
Jersey Shore star DJ Pauly D rocked the house when he took the stage in front of 40,000 fans Saturday at ShamRockFest 2011 in Washington, D.C. In front of a sea of green, the MTV reality star lead a massive fist pump at RFK Stadium Festival Grounds. Pauly D played two sets during the all day 10-stage concert – including being the headliner in the DJ Pauly D VIP House.

Pauly D also gave a huge shout out to the hometown hockey team, the Washington Capitals, and then got some Caps love in return. "Beat That Beat Up!!! My boy PaulyD is the BEST!!!!!" Caps captain Alex Ovechkin tweeted after Pauly's ShamRockFest set.

Don't tell Vinny, but Pauly D and the Caps have an on-going bro-mance. The hockey team originally grabbed Pauly's heart when locker room video of the team leaked showing them doing a fist-pumping victory dance to Pauly D's single "Beat Dat Beat." Today (Sunday) Pauly D revealed he'd be in attendance at the Caps game before hitting the road for an all-ages gig tonight in Harrisburg, PA.
Uploaded by homermcfanboy on Mar 13, 2011
Russian Jersey Shore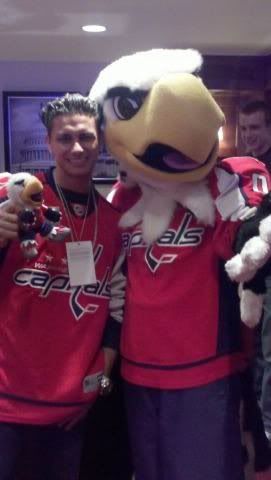 Photo by Marge
John Carlson:
@DJPaulyD beating that beat up after a huge win against a very good team. Me and @EricFehr16 #beatdatbeatup #caps http://t.co/v2DfbKJ
Fehr? How could you? You love country!!! :-)
---
Link to the latest post