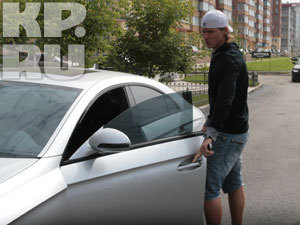 Фото: KP.RU-Красноярск

KRASNOYARSK, May 21, 2011 - RIA Novosti, Svetlana Bel'kovich.

Alexander Semin, the 2008 World Champion and the Washington Capitals forward, played for All-Stars team vs. local hockey club Sokol (Falcon) in a friendly game devoted to the closing of the hockey season in Krasnoyarsk.

The game was played Saturday at the "Torch" ice arena and ended with the score 7:6 in favor of the All-Stars. Maxim Galanov, former NHL defenseman for New York, Pittsburgh and Atlanta, also played with Alex Semin, as well as director of Sokol hockey club Dennis Lugovik, some Krasnoyarsk businessmen and hockey fans.

All-Stars led the game 5:1, then Sokol was able to come back, but in the end All-Stars team won. Semin scored the second and sixth goal against his hometown club. The stands were completely filled with fans and nearly half of them were wearing Washington Capitals jerseys. After the game Washington's forward took part in an autograph session.



krsk.sibnovosti.ru

Semin told RIA Novosti that he was "pleased with the game." "You can't to play a friendly game at full strength, but you can't simply skate around either," explained the hockey player. Answering the question why he played against his hometown club, Semin said he didn't choose who to play for. "It was not my decision," added the athlete.

"Sasha scored very beautiful and powerful goal from the blue line to the top corner. The shot was so powerful that the puck went through the mesh. But everyone saw that it was a goal. What can you say, it was awesome," shared his impression of the game Sokol's director of Media Relations Sergei Kuzavkov.

"Sokol's hockey players, in spite of losing the game, were very satisfied with the game and left the ice in a good mood. "You can absolutely understand the guys. For many of them it was the first time to play against the stars of such level. Both Semin and Galanov are pros and to play against the two was a good school and a good hockey clinic," summed up the friendly game Kuzavkov.


Update:


Semin after the friendly game

You can watch video here http://www.lifesports.ru/news/59188

On that video they asked Semin if he talked to Ovi, and Sasha answered, "Not yet".







---
Link to the latest post